Der Drache fliegt sehr gutmütig und entwickelt erst beim Aufnehmen von Geschwindigkeit seinen Zug. Ich fliege ihn mit einem Rückengurt und normalen Vierleinerhandles.
The kite is very forgiving and develops its drag only when accelerating. I fly it using normal quad handles and a hook around my back.
Er lässt sich sehr gut lenken, ohne die Bremsleinen erhöht er den Zug in der Kurve nochmals deutlich.
Die Bremsleinen funktionieren sehr direkt, Rückwärtsflug und auch Rückwärtsstarts sind mir auf Anhieb gelungen, obwohl ich keine Vierleiner-Erfahrung habe.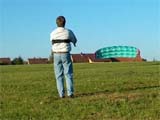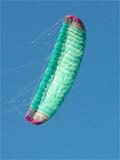 It is very easy to steer, when not using the break lines it increases its drag noticeably when turning.
The brake lines are very direct, I instantly succeeded in flying and starting backwards even without having any quad experience.